Summer has finally arrived in my area.  We are supposed to have our first 100 degree day today.  Ugh!  To celebrate summer, I am having a Summer Solstice Garden Giveaway.  I have a Miracle-Gro ready to use Liquafeed all purpose plant feeding kit with two refill bottles for you to use when watering your plants.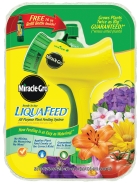 You attach the sprayer head to the garden hose you normally use to water your plants.  You load the bottle of plant food in the sprayer, then turn on the hose and voila! you have a water spray that has the correct amount of fertilizer in it.  If you need to use just water for something, twist the spray head and it shuts off the fertilizer.
For those of you who do organic gardening, this is NOT organic according to certification standards.  It will work on most conventional crops.  Make sure you read the instructions and follow them when using this product.  Remember:  The label is the law.
Buy:  The Liquafeed starter kit with two refill bottles and the garden feeder is available at Wal Mart and most other big box retailers.
Win:  I am giving away one Liquafeed starter kit, plus some surprise goodies, to one lucky reader.  Because this is a heavy product, you must live in the continental US and no P.O. Boxes.    To be entered, just leave a comment on this post telling me what you grow in your yard or garden.  If you have an apartment, a potted plant will do.  Be sure and include your email address so I can contact you if you win.
Entries close June 21 and I will pick one entry June 22 with a random number generated by Random.org.  The lucky person will have 48 hours to send me his or her physical address so I can ship this by UPS.  Otherwise, I will draw again.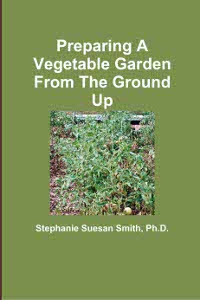 For more help gardening, buy my book, Preparing A Vegetable Garden From The Ground Up

Available in print or ebook from Amazon.com or other retailers, this book walks you from choosing the site of your garden all the way through what to do after the harvest. Buy a copy for yourself or a friend today!
---