I have been talking periodically about habitat restoration.  One of the things that go along with that is supplemental feeding of the wildlife.  This does not mean giving bread to the deer or ducks.  That is dangerous.  It means providing different ways for the animals to get more nutrition than the land provides at this time.
One of the most common ways to supplement food is food plots.  Deer hunters do this all the time.  A plot is planted with a mixture of forbs and legumes and is allowed to grow without being grazed by the resident cows or horses.  This supplemental food helps the wildlife in a natural way without habituating them to humans.    Seed is available for deer, quail, turkey, and songbirds.  The size of the plot is determined by the target animal.
Feeders can help quail and turkey during nesting season by dispensing food when they really need the extra calories to raise their young.  If you go this route, you need to keep the feeders stocked and the food coming on schedule.  You also need to keep the feeders clean because aflatoxin will grow on old, wet corn and kill the birds and anything else that eats it.
Feeders for deer are not very useful unless you are trying to concentrate them in order to kill the excess ones.  Deer feeders also attract feral hogs, who can really tear up the area.  Food plots are a better bet for deer.
Mineral supplements can be helpful as part of an overall plan, but should not be used in isolation.  Deer like salt licks.  So do hogs.  Turkey and quail also use some mineral supplements.
If you buy or take over the management of a pasture that is tame and full of Bermuda grass, you can gradually transition your pasture to native grass.  Overseed the pasture with native plants each year.  Tilling just enough to break the grass mat up in the fall will let the native plants there  to germinate and grow.  Gradually, the land will revert back to native pasture.  Then you will see an increase in the amount of wildlife as they will have more to eat.
When I moved to this property ten years ago, I saw no wildlife at all the first year.  Now I regularly see squirrels, birds, and even the occasional coyote, fox, or deer.  I hope to restore this property further so I see more of them.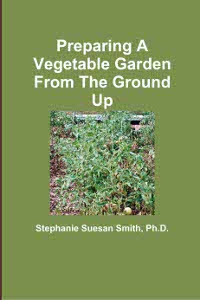 For more help gardening, buy my book, Preparing A Vegetable Garden From The Ground Up

Available in print or ebook from Amazon.com or other retailers, this book walks you from choosing the site of your garden all the way through what to do after the harvest. Buy a copy for yourself or a friend today!
---