As garden season winds down, it is a good idea to take some time to maintain your garden tools before you put them away for the winter.
Remove all dirt and debris from them with a garden hose and a stiff brush.
Sharpen all the tools that cut and cultivate in your garden.  A metal file or honing stone will sharpen the tool and fix any rough edges.  It also makes the tool easier to use next year
Apply a light coating of motor oil or honing oil to your tools to prevent rust.  Use a rag to coat the tool and wipe off the excess oil.
Store tools away from the elements, off the floor, with each tool on its own hook.
These tips will keep your tools working right for a lifetime and make gardening easier when spring comes.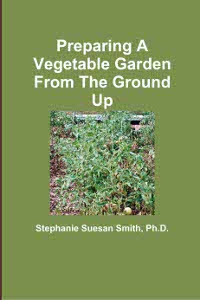 For more help gardening, buy my book, Preparing A Vegetable Garden From The Ground Up

Available in print or ebook from Amazon.com or other retailers, this book walks you from choosing the site of your garden all the way through what to do after the harvest. Buy a copy for yourself or a friend today!
---