I write for money.  Blogging, web articles, print articles, even a book.  I also help people maintain their WordPress blogs, or set them up.  I have photographs of a number of North East Texas plants and animals for sale.  I even do scroll saw work for people.  How do I let people know they can hire me?  I have a tab on my menu called "Hire Me."
I have a mentor, Gail from Growmap.com, who suggested I do this.  I do not like to put a price on things because I was taught it was a bad negotiating tactic.  As Gail explains in her article, Why Your Blog Should Have A Hire Me Tab people tend to want to know if they can afford a person before they contact you.  No prices, and they move on.
Of course, if you just build it, they WON'T come.  You have to make connections in other places, such as the Blogathon, Twitter, Facebook, Linkedin, and other social media outlets to draw people to you.  You also have to have good content, a good design, and enough details about yourself that someone feels you are qualified for the job.  Think of your blog and website as one big resume when you are a writer.  What does your website or blog say about you?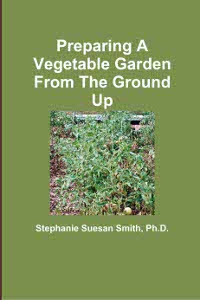 For more help gardening, buy my book, Preparing A Vegetable Garden From The Ground Up

Available in print or ebook from Amazon.com or other retailers, this book walks you from choosing the site of your garden all the way through what to do after the harvest. Buy a copy for yourself or a friend today!
---