What You Should Know About Termites
$5 billion—that's how much termites are estimated to cause in property damage each year in the United States. Is your home or business a victim of this wood-destroying insect? Get the facts on termites, and protect yourself from these demolishing pests.
Did you know there are three major types of termites in the United States? Depending on your geographic location, you will probably find one of these three around your home.
The first classification of termites is the dampwood termite. Dampwoods prefer wet wood, and are most commonly found in heavily forested areas. The most common locations of dampwood termites are the Pacific Coast states including Montana, Idaho, Northern Nevada, Oregon, Northern California and Washington. The Southwest United States and Southern Florida may also house these termites.
Second is the drywood termite, which prefers wood that is extremely dry. These are more rare in the U.S., and significantly less destructive.
The third kind of termite is the subterranean. Subterranean termites choose moist environments, mainly soil. These are the most destructive of the three termite species and the most dangerous to your home.
So, how do you identify termites in your home? First, you need to know when to look. Most termites begin to surface I early spring and appear similar to a swarm of flying ants. Signs of termite infestation include softened wood inside your home, mud tubes on your home's exterior, and darkening or blistering of wooden structures.
Once you determine that you have a termite problem, the next step is to take early and quick precautions to stop them. The best way to protect your home against termites is to treat your home with pesticides. Specific products are used for each type of termite so it is important to correctly identify the termite that is causing the problem.
Termite control can be done by eliminating and reducing the moisture in and around your home. Here are some tips to avoid moisture from building up:
Divert water with downspouts, gutters, and splash blocks. Check to make sure these are functioning properly, and fix clogs if there are any.
Use proper ventilation to reduce humidity in crawl spaces.
Check vents to ensure shrubs, branches, and other vegetation are not growing over and covering them.
Remove old tree stumps and roots that are around and near your home.
Ensure that there is at least an 18-inch gap between the soil and wood. If there is any contact between the soil and wood, be sure to correct it.
Periodically inspecting your home for excess moisture and signs of termite infestation will help you to detect and correct problems at an early stage.
There are many different places to buy professional grade termite treatment chemicals. One of the better sites on the web for buying DIY pest control products is this one.  Just make sure to read the labels and follow the directions carefully.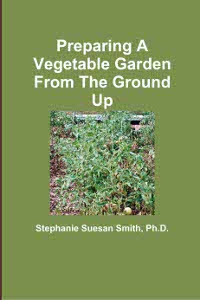 For more help gardening, buy my book, Preparing A Vegetable Garden From The Ground Up

Available in print or ebook from Amazon.com or other retailers, this book walks you from choosing the site of your garden all the way through what to do after the harvest. Buy a copy for yourself or a friend today!
---