The cultural district in Dallas is called Fair Park.  That is where the annual State Fair is each fall (during the rainy season, go figure), the museums are located, and the Music Hall lives.  In the last ten years, Dallas has been trying to spruce the area up and has built a number of new museums and refurbished the old ones.  One of the older ones, the Texas Discovery Garden is working to show visitors how to create a wildlife friendly oasis in the midst of their urban home.
One of the oldest public gardens in the state, this was originally called the Hall of Horticulture in 1936.  Little bits and pieces were added on as funding became available and the garden grew into a hodge podge of buildings and garden areas.  Some still stand, some are gone.  Frankly, as someone who frequently went to the annual State Fair, and just as frequently went to the museums in Fair Park, for years growing up, I didn't know it existed.
In the last 30 years, however, a more cohesive vision seems to have developed.  Native plants are showcased in the Benny Simpson Texas Native Plant Collection.  Roses are showcased in the Faerie Banton Kilgore Rose Garden.  Butterflies, both tropical and native, are showcased in the Rosine Smith Sammons Butterfly House and Insectarium, which was dedicated in 2009.
The place has undergone several name changes, but is now known as the Texas Discovery Gardens.  It was the first public garden in Texas to be certified as organic and in 2006 became an affiliate of the Lady Bird Johnson Wildflower Center.  Old buildings have been restored as the new buildings have been built.  The place has also increased outreach so that others can learn to grow native plants in an urban environment without a lot of pesticides.
The new mission statement of the new Texas Discovery Gardens is as follows: to teach effective ways to restore, conserve and preserve nature in the urban environment, with a focus on gardening organically and sustainably.  As part of that mission, Texas Discovery Gardens offers classes.  One of the classes is coming up this Saturday, December 4th:  Master Composter Certification Class.  The class teaches you how to compost effectively.  For $50 you get lunch, a book, compost thermometer, and worm bin and the class from 9-5:30.  If you are a member of Texas Discovery Gardens, you can attend the class for $40.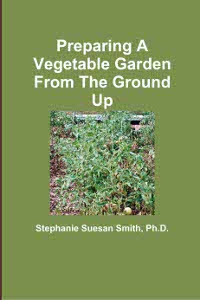 For more help gardening, buy my book, Preparing A Vegetable Garden From The Ground Up

Available in print or ebook from Amazon.com or other retailers, this book walks you from choosing the site of your garden all the way through what to do after the harvest. Buy a copy for yourself or a friend today!
---