Yesterday, I wrote about how important it is to garden with plants adapted to the rainfall in your region.  As it happens, next week is the second annual Texas Native Plant Week.  The Texas chapter of the Native Plant Society was able to get that declaration through our legislature and get our Governor to sign it.  The third week of October will be designated as Texas Native Plant Week from 2009 on.
The Native Plant Society works to preserve our native plants from invasive species that take over and smother them, from habitat loss due to construction, and from other threats.  They also educate people on the importance of these plants to our wildlife and to the character of our country.  As a nonprofit, they are always strapped for funds, so consider becoming a member and volunteering to help with these efforts.
Native plants offer the best gardening potential in an age of water shortages and droughts.  They are adapted to the flood and drought cycle in Texas and are more likely to live through the bust times and thrive in the boom times.  You could even preserve valuable genetic diversity by growing these plants, so that one blight or other problem will not wipe out all known plants of a species.  Think Irish Potato Blight if you have any doubts that is possible.
For more information, you can contact the Native Plant Society.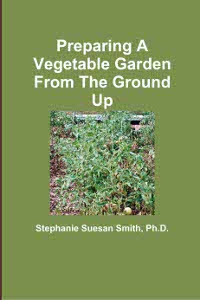 For more help gardening, buy my book, Preparing A Vegetable Garden From The Ground Up

Available in print or ebook from Amazon.com or other retailers, this book walks you from choosing the site of your garden all the way through what to do after the harvest. Buy a copy for yourself or a friend today!
---