Erma Bombeck was a  humor writer who made a living writing about her husband,kids, dogs and the various misadventures of her family.  She had a syndicated column and some books that I enjoyed reading.  So did my mother.  One of the things she used to tell her family when they objected to something she wrote about them was along the lines of "You don't like it, get your own column."  I bring this up because my mother,  Caroline Clemmons, wrote about her family in her Sweethearts of the West blog yesterday on why she is thankful this year.  My dogs and I were mentioned.
I am thankful to have enough land for my dogs and myself to live on and have a garden.  I am thankful to be in a country that may have fallen on hard times, but is still the most free and best country in the world.  And, after a serious illness this fall, I am thankful to be alive and on the mend.
I visited Hungary in the fall of 2002.  They had only the vegetables they could grow in their gardens, and every house had a garden.  The apartments had window boxes full of plants.  If they didn't grow it, they couldn't get it.  There were no good roads and no centralized system of food distribution.  I am thankful I can go into any grocery story in the United States and find vegetables and other healthy foods any time of the year.
Finally, I am grateful for family.  Family of origin and family of choice.  People who help you out when you get sick, or just stuck on what to write about that day.  You know who you are.  Thank you.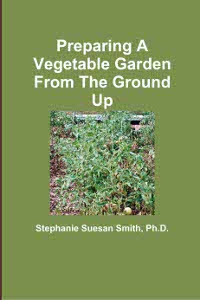 For more help gardening, buy my book, Preparing A Vegetable Garden From The Ground Up

Available in print or ebook from Amazon.com or other retailers, this book walks you from choosing the site of your garden all the way through what to do after the harvest. Buy a copy for yourself or a friend today!
---