Thanksgiving for turkeys?  Yes, actually, turkeys have much to be thankful for.  Not those stupid domestic white turkeys that are too big to breed without help and live short lives on poultry farms before appearing on our tables.  No, I speak of the wild turkeys.  They have actually got a lot to be thankful for.
Turkeys are native to North America.  There are five subspecies of the North American Wild Turkey:  the Rio Grande, the Eastern, the Gould's, the Osceola, Merriam's.  The Ocellated Turkey in the Yucatan Peninsula in Mexico is the only other species of turkey in the world.  When Europeans arrived to the New World, they found healthy populations of birds.  Native Americans ate them, but were limited in the numbers they could kill with bow and arrow.
By the early 1900's, market hunting and habitat destruction had reduced populations to 30,000 continent wide.  Turkey were in the same boat as deer, egrets, and passenger pigeons and the boat was rapidly taking on water.  Oddly enough, turkey owe their continued existence to sport hunters, who organized and passed laws taxing guns, ammunition, and other sporting goods and directing that money  be used for habitat restoration, restocking, and the enforcement of hunting regulations.  Market hunting was also outlawed.  The laws came too late for some species, such as the passenger pigeon, but came just in time for the turkey.
Federal efforts were supplemented by the National Wild Turkey Federation , who led restocking efforts.  Four of the five subspecies are estimated to be more widespread than ever in their history.  Work continues on them as well as the Gould's turkey, the rarest turkey.  It lives in rugged mountains on the Mexican border, making study difficult.  Still, all of the turkeys have much to be thankful for.  While individual turkeys may not survive the holiday, it looks like the species will do just fine.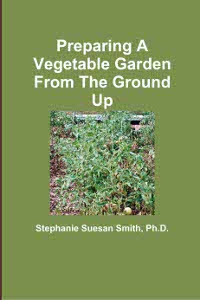 For more help gardening, buy my book, Preparing A Vegetable Garden From The Ground Up

Available in print or ebook from Amazon.com or other retailers, this book walks you from choosing the site of your garden all the way through what to do after the harvest. Buy a copy for yourself or a friend today!
---