Animals get thirsty too.  Right now, with the drought that is gripping the nation, animals are getting desperately thirsty.  Creatures that would ordinarily avoid humans are coming up to houses and farms in search of water.   Nocturnal animals are out during the day because they have to work a lot harder to stay alive in this drought.
For more urban people, having a coyote drink out of your birdbath may be cool.  At least until he snags your cat or small dog, that is.  Owls and hawks are staking out bird baths and seeps in order to find water and food, too.  It is important to supervise pets when they are outside to make sure they do not fall prey to a desperate predator.
The concentration of wildlife is causing another problem.  Diseases are being passed between animals more easily because they have ore contact with one another.  Any mammal can carry rabies, although bats, skunks, racoons, and coyotes are the principle offenders when it comes to human contact.  Do not touch or pet any unknown animal and keep your pets from contacting them.  Saliva, blood, and other body fluids can transmit the rabies virus from an infected animal to a non-infected animal.  Use a shovel to pick up any dead animal and contact animal control if it is a mammal so they can test it for diseases.
Rabies isn't the only problem.  Racoons carry distemper and parvo, as do coyotes.  Other animals carry other diseases.  The bottom line is do not touch wildlife or allow your pets near it.
There is nothing wrong with setting out water for the animals and birds.  Use a shallow pan and put a brick or rock in it that is big enough to jut out of the water.  That will allow a bird or mammal that cannot reach the water from perching on the side of the pan to climb down and get a drink.
Try to put the water in the shade.  No one likes 100 degree water, although the animals will take what they can get.  Fill it each evening and each morning, so the animals know when to expect it.  Once you start, be sure to continue as the animals will start to count on the water source.  If you provide water in an area you can see but your pets and children cannot access, you will help the animals and have a chance to watch some animals you would not ordinarily see.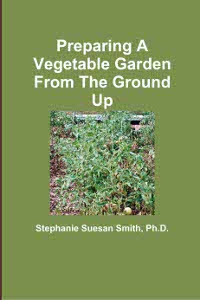 For more help gardening, buy my book, Preparing A Vegetable Garden From The Ground Up

Available in print or ebook from Amazon.com or other retailers, this book walks you from choosing the site of your garden all the way through what to do after the harvest. Buy a copy for yourself or a friend today!
---