Every so often, I write a post about dogs.  Tomorrow we go back to gardening, but today, we discuss dogs.
I did Pointer rescue for over a decade.  I took in Pointers that had gotten lost, were dumped, or had been taken to the pound.  Then I taught these dogs manners, housebroke them, and attempted to find them homes.  For the most part, I was successful.  The shelters often called me to come get a dog that had been brought there by the owner, or found by someone, or picked up by animal control.
This one shelter was on the edge of a big city, but beyond that there was a very rural area.  They got a log of dogs and had few resources.  The building was old, the runs were not very spacious or very well built.  It was hot in the summer and cold in the winter.  Still, they tried hard to keep the dogs comfortable and find them homes.
In the midst of one of the coldest spells I can remember, they called me.  A man had taken a twelve year old Pointer to the shelter and left her because she "couldn't hunt anymore."  This dog gave her all to him for twelve years and he dumped her in the shelter.  She had arthritis, and the cold was hard on her.  So were the cement floors.  They asked if I could come get her.  Against my better judgment, I agreed to come have a look.
When I got there, the dog was on a pile of blankets, shivering.  She was also a German Shorthaired Pointer – not my breed.  I identified her as such and said that meant I could not take her.  I left the crestfallen staff and got about half a mile away.  Something compelled me to turn around and get the dog.
I walked back in, and the staff was preparing her paperwork to go with me.  They knew I would be back.  I snarled something like, "Give me the dog and quit laughing."  I took the dog to my veterinarian because the owner did agree to pay for her shots.  The dog was in decent health for an old lady.
I let my dogs on my furniture.  They are part of the family.  I did usually crate the rescue dogs at night, as my dogs took up enough space in the bed.  However, during the day, if they behaved, the dogs were loose in the house while I was there.  Tilly, as this dog was called, claimed a place on the couch.  She was warm and comfortable and only moved to go out.
This continued for six months.  Then Tilly was attacked by one of the other dogs, who seemed to have taken an intense dislike to her.  I had to keep them separated.
Tilly started wetting where she lay, as if she had incontinence.  Her gait changed and she walked funny.  I took her to the vet.  He listened, then asked if the other dogs were attacking her.  I told him one of them had, after being fine for six months.
He delivered the verdict:  Tilly had a brain tumor.  At her age, there really was nothing that could be done.    We humanely euthanized her while I stroked her and talked to her.  Then she was gone.
I am glad Tilly had six good months.  I still get angry at the man who rewarded a lifetime of devotion with desertion in a drafty animal shelter.  His words were, "Find her a good home, she can't hunt anymore."
I hope when he gets old and can't take care of himself, his family drops him off at a nursing home and tell them to "find him a good home, he can't work anymore."  What do you think should happen to people like this? Please keep your comments G rated, although they can certainly express your disdain for this sort of behavior.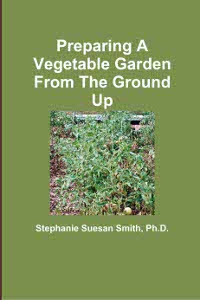 For more help gardening, buy my book, Preparing A Vegetable Garden From The Ground Up

Available in print or ebook from Amazon.com or other retailers, this book walks you from choosing the site of your garden all the way through what to do after the harvest. Buy a copy for yourself or a friend today!
---