It is time to plant spring onions in North Central Texas.  Onions are one of the things that grow really well in our black gumbo soil and they are easy to plant.  Almost every feed store, home improvement store, and garden supply has bundles of sprigs ready to go in the ground.  Pick ones that are not too dry and have some green on them.  Wilted or dried out springs won't live long.
The easiest way to plant onion springs is to go ahead and prepare your row for planting, then dig a shallow furrow one or two inches deep down the middle.  Place the springs with the root side down in the furrow.  Space them a couple of inches apart.  Fill in the furrow, being careful to leave the sprig standing up when you do.  Water in good so they get a good start.
As the onions take hold and start to grow, thin every other one as they start to crowd each other a little.  Use the thinned ones in any dish calling for green onions.  Repeat the thinning process each time the onions seem to crowd each other.  Your onions are ready for harvest when the tops die.
Pull the onions carefully out of the ground, then clean the dirt off of them.  let them air dry for a week or so, then store in a cool, dark place.  They will keep for quite a while like this.  Periodically check them and remove any with soft spots in them so they do not rot their neighbors.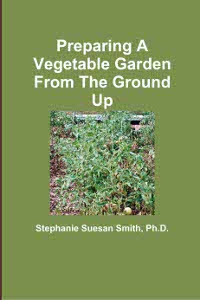 For more help gardening, buy my book, Preparing A Vegetable Garden From The Ground Up

Available in print or ebook from Amazon.com or other retailers, this book walks you from choosing the site of your garden all the way through what to do after the harvest. Buy a copy for yourself or a friend today!
---