As improbable as it seems with temperatures hovering around 100 degrees in North Central Texas, it is time to start your tomato and pepper seeds for your fall garden.  Actually, it is getting to be a bit late to start them, but you can still get them big enough to plant on time, around the middle of July, if you hurry.
Tomatoes will bloom in the summer heat, but they will not set fruit after the night temperature is about 90 degrees for a few days.  They will soon be done for the year as it is warming up quickly.  Peppers will last a little longer, but will be spent by the end of June.  When these plants quit producing, yank them out and toss them on the compost heap.  Leaving them in the ground feeds the bugs that eat the same food you eat so they will attack your fall crop with a vengence when you start it.
In the fall garden, tomatoes and peppers grow during the hot months and then as soon as the temperature dips they are all ready to start having tomatoes and peppers.  You do not waste any of the time they could be producing with growth.  So, start your seeds indoors now, plant them outside in mid July, and enjoy a whole new crop of tomatoes and peppers this fall.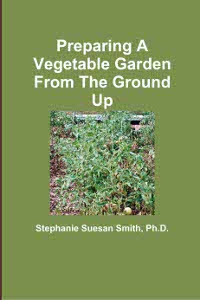 For more help gardening, buy my book, "Preparing a Vegetable Garden From the Ground Up." Available in print
or eBook, this book walks you from choosing the site of your garden all the way through what to do after the harvest. Buy a copy for yourself or a friend today!
---