Image by tlindenbaum via Flickr
Tomato hornworms (Manduca quinquemaculata) attack tomatoes and sometimes pepper, eggplant, and potato plants.  They chew up the leaves and fruit and can destroy the crop if not controlled.  This is devastating for the hobby farmer, but could spell real disaster to the subsistence farmer.
My grandmother talked about having to pick the hornworms off the garden before going to gather the chicken eggs each morning.  The hornworms were put in a can and then fed to the chickens as part of their food.  If the garden didn't produce, much of the family's food for the year was gone with it.
I remember being paid a small sum per hornworm to pick them off our garden growing up.  My family gardened as a hobby, though, and would not starve if we did not make a crop.
Hornworms are the caterpillar stage of the five spotted moth.  The caterpillar goes through four or five molts, eating all the way.  It then drops off the plant and burrows into the soil to pupate and become the moth.
Principle control is by a small wasp that lays her eggs on the caterpillar.  They hatch and eat the hornworm from the inside, then spin white cocoons that stick out like a pin in a pin cushion.  The caterpillar dies when the cocoons rupture and the wasp go off.
Hand picking hornworms is often all that is required to keep them under control.  If, however, you need help, you can spray Bt (Bacillus thuringiensis) on your garden.  This is an insecticide specific to caterpillars.  Mammals, birds, and insects not in the caterpillar stage are not harmed.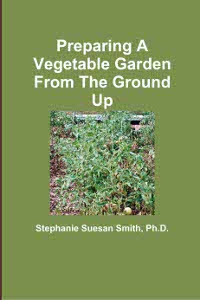 For more help gardening, buy my book, Preparing A Vegetable Garden From The Ground Up

Available in print or ebook from Amazon.com or other retailers, this book walks you from choosing the site of your garden all the way through what to do after the harvest. Buy a copy for yourself or a friend today!
---