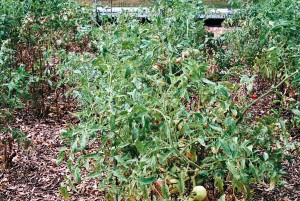 Nature plays a cruel trick on gardeners each summer.  We plant tomatoes as the frost ends, then baby them along until they bloom.  Just when it seems every part of the plant is full of blooms, something happens.  The blooms just drop off without making tomatoes.No, it wasn't a fluke, because more blossoms appear after the first ones drop.  Still no fruit.  What happened?
When the air temperature is at or above 90 degrees for more than a night or two, tomatoes stop setting fruit.  They will bloom beautifully and the plant looks wonderful.  But it has become ornamental — not to have fruit for the rest of the summer.
Gardeners have two choices at this point.  Choice one is to baby the plant all summer until the temperature drops below 90 degrees at night and it begins to set fruit again.  This is a viable option.  However, these plants never seem to produce as well after they struggle through the summer.
The second choice is to rip that sucker out and throw it on the compost pile.  Why waste resources on a plant that won't produce well again?  Start another crop in the tomato patch and start tomato seeds indoors for the fall.  If you are very brave, you can try direct seeding the tomato seeds into your rows.  You will have to water them a lot, but they will not have to be moved and will probably be healthier, all things considered, than transplants.
Good luck with what ever option you decide.  Good gardening, and stay safe in the heat.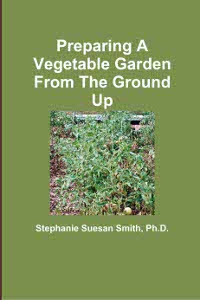 For more help gardening, buy my book, "Preparing a Vegetable Garden From the Ground Up." Available in print
or eBook, this book walks you from choosing the site of your garden all the way through what to do after the harvest. Buy a copy for yourself or a friend today!
---