In honor of Halloween, I am presenting to you a list of the top ten scary creepy crawlers and flyers in North America.  This is simply my opinion, and your mileage may differ, but these are the bugs that make this bug geek squeak:
10. Wasps–Anyone who has ever dislodged a wasp nest when clearing brush or mowing knows how bad these insects can hurt and how sick the stings can make you.  People who are allergic to the venom can die from a single sting.
9. Black widow spider– These are bad news if they bite you, but for the most part they will leave you alone if you leave them alone.  I had an infestation in my tack shed one year and my Dad had to poison them.  Getting my saddles and tack got a bit sporty there for a while.
8. Brown recluse spider — the other poisonous spider in North America.  Most brown spiders are harmless, but the fiddle on his back gives this one away.  Most homes have them and they never cause a problem, but be careful reaching into dark places.
7. Fire ants — need I say more?  They sting as a horde, and the venom can kill if you get enough stings.  They kill wildlife and make picnics miserable.
6. Ticks — carry scary diseases like Rocky Mountain Spotted Fever, Lyme's disease, and others.  Even if they didn't do that, the whole suck your blood thing doesn't work for me or my dogs.
5. Bed bugs — when I was a child my mother would say, "Sleep tight, and don't let the bed bugs bite."  It was a joke then, a saying left over from her childhood when bed bugs would make life miserable.  Well, their baaack, and they are showing resistance to pesticides that mean they are very hard to control.
4. Lice — also make life miserable and are also becoming pesticide resistant.  Schools battle this problem constantly and they are losing more and more.
3. Flies — some bite, others do not bite humans.  They buzz, though, and walk across food and in cups without washing their feet.  They also walk across less delicate items, so track that on your food.  Ick!
2. Fleas — before modern flea control products, flea bite anemia was common in puppies and kittens, and fleas made life miserable for dogs, cats, and humans.  Then there was that whole bubonic plague thing, a problem that still surfaces from time to time.  Guess who carries it?  Yep, the flea.
1.  Mosquito — for shear human misery, the mosquito barely edges out the flea.  Mosquitoes carry everything from West Nile Virus to malaria.  They transmit some truly nasty diseases.  As the world shrinks with global travel, and warms with global warming, malaria, yellow fever, and other things that have long been absent from North America may well come back.  My great grandmother got malaria from the Brazos River near present day Waco, and Washington, DC was once a swamp filled with malaria and yellow fever.  Mosquitoes are truly an unlovable bug and have changed history with their illnesses more than fleas, at least in North America.
So, what bugs make your top ten that I haven't mentioned, and why?  Leave a comment and celebrate the bad bugs for one day of the year.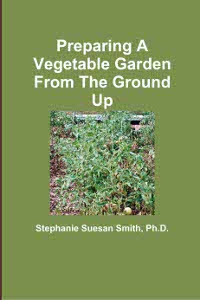 For more help gardening, buy my book, Preparing A Vegetable Garden From The Ground Up

Available in print or ebook from Amazon.com or other retailers, this book walks you from choosing the site of your garden all the way through what to do after the harvest. Buy a copy for yourself or a friend today!
---