I have very sensitive skin and am always hesitant to try out bath and body products. When I heard about Touch'd products, designed especially for sensitive skin, I wanted to give them a try. I was sent the bath butter and the sugar scrub to review.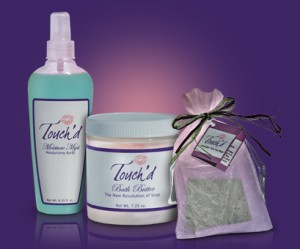 The blurb:
Touch'd bath and body was founded Rachel Ferrucci, when she couldn't find products to meet all the needs of her family. One product specifically, the organic sugar scrub, was created when her daughter had eczema and the doctors were prescribing medicated creams that seemed to be drying out her skin. She wanted to give her daughter relief without slopping medicated creams all over her delicate body. She researched and read every book on natural oils and how they can benefit our skin. She was successful in concocting the winning formulas in her home bathtub by making a product that was 100% organic and alleviated her eczema.
Other signature items in the Touch'd women's product line include Bath Butter, Moisture Myst, and the Foaming Salt Soak, which is derived from the Dead Sea. The men's line (inspired by her husband) includes the scents Outlaw and Captain.
Along with creating Touch'd for her family, she also wanted to meet the needs of discriminating women everywhere.
The review:
Bath butter is a thick, creamy product that you use like a body wash. It works best on one of those scrunchy things. In appearance, it had a slightly pink tinge and a fragrance of some sort. It felt like thick creamy butter. I tried it for a couple of days and found it lathered up well and washed off clean. My skin did not break out or have any problems with it.
The sugar scrub is sugar in an oil base. I tried it on the calluses around my elbows and it did make them softer. I had to rewash the area to get all the oil off, though, as too much was left behind to be pleasant. The label warns you to be careful when using it because the oil makes things slick. This would especially be true if you used it on your feet. It might be best used when giving yourself a pedicure where you are sitting down and could let the oil absorb into your skin before moving around.
These products worked as advertised. I have a couple of quibbles. What is a review without a couple of quibbles, right? There was no list of ingredients on the label of either product. That meant I could not check to see if they contained something I was allergic to. The bath butter had a pretty strong fragrance I found too strong for my liking. Both things seemed odd in products marketed to people with sensitive skin, since so many of us have allergies to likely ingredients, and especially fragrances.
Buy it:
Touch'd products can be purchased on the Touch'd website (www.touchd.net) and in select boutiques, salons, and day spas throughout Connecticut.
You can follow Touch'd on twitter or facebook for news of specials and new products.
Win it:
One lucky reader will win a tub of bath butter. Simply visit the Touch'd website and tell me one thing you want from it in a comment. Make sure you leave your email address in the body of the comment so I can contact you when you win. Eligibility: US only, over 18. Contest ends 6/21, winner will be emailed on 6/22 and has 48 hours to answer or another winner will be chosen.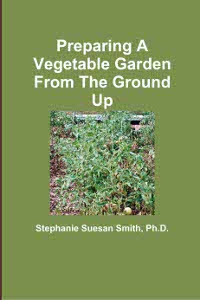 For more help gardening, buy my book, Preparing A Vegetable Garden From The Ground Up

Available in print or ebook from Amazon.com or other retailers, this book walks you from choosing the site of your garden all the way through what to do after the harvest. Buy a copy for yourself or a friend today!
---