There is a large telephone pole near my house that I see out my study window.  This morning I have been watching a turkey buzzard who is sitting on it.  He is warming in the sun until he is warm enough to fly around and search for a meal.  A lot of people treat buzzards with disdain, but they are nature's garbage men.
This one is sitting there grooming himself.  The he stretches first one wing, then the other, doing his warm up calisthenics.  All the while he is running his bill over his body and straitening anything out of place.  He looks like an athlete warming up before the big game.  This is not the only buzzard that I have seen do this, as that pole is a favorite roost.  Sometime a second bird will land, or even a third.  Sometimes one pushes the other off, too.
The turkey buzzard is properly called the turkey vulture (Cathartes aura).  Biologists cringe when people use the wrong terms for critters.  Whatever you call it, the in the United States it is illegal to kill one.  Many people think buzzards kill calves.  While they do seem attracted to calving animals, they do not kill the calves.  If the animal is born dead, or the mother rejects it and it dies, the buzzard will eat it.  Black headed vultures, in contrast, will sometimes kill a calf if they can.
The turkey buzzard eats carrion, or dead things, and some vegetation.  Without buzzards, we would have carcasses piling up all over the place.  Because buzzards eat dead things, they have very strong immune systems.    Think of what would happen to you if you ate a rabbit that had been lying in the sun for a day or two!
Turkey vultures are harmless birds that perform a vital function.  They are part of a healthy ecosystem.  Welcome them and enjoy watching their morning warm up routine.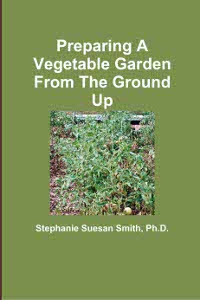 For more help gardening, buy my book, Preparing A Vegetable Garden From The Ground Up

Available in print or ebook from Amazon.com or other retailers, this book walks you from choosing the site of your garden all the way through what to do after the harvest. Buy a copy for yourself or a friend today!
---