Creating an unusual vegetable garden
Set yourself apart from other gardeners this growing season by planting unique vegetable produce. Add spice and life to your outdoor space and full flavor and exciting tastes to your dinner table with some truly delicious and original fruits and vegetables.
Strange fruit
Say goodbye to the humble carrot and potato and welcome the new breed of "glamor-veg" that is moving in to our garden plots. Why not consider swapping spinach for amaranth? Similar in taste to the favorite leafy green but with an elegant silhouette, this Bangladeshi native thrives in sandy soil and is best seeded in a sheltered, sunny spot after frosts have finished.
Or add a mouthful of the Andes to your dishes by planting up some oca. These pink tubers make a good substitute for potatoes and are certainly more exotic. What's more, the plants produced by these tangy vegetables are pretty enough to earn a place in the flower border, with clover-shaped leaves and soft orange flowers. Oca should be planted in pots of compost in spring and kept in the greenhouse until frosts have passed. They are slow starters but patient gardeners are rewarded with delicious tubers in late autumn that add a mouth-watering twist to the table.
If you have a taste for Mexican food, why not grow some tomatillos to feed your passion? These little beauties are the key ingredients to perfect salsa. With their green or purple fruit, they are wrapped in a lantern-shaped papery case with lovely yellow blossoms. They are undemanding to grow and can be treated in the same way as tomatoes, planted in a warm sheltered spot in the garden or, even better, in the greenhouse. At harvest time, combine tomatillos with coriander, chili, lime and garlic for an authentic salsa to knock your socks off.
Good looks and good taste
Taking the exotic veggie path can be echoed in the design of your garden plot. The vegetables should taste good but the garden should be a pleasure to gaze upon from the kitchen window too. Install attractive wooden shutters that can be easily opened and closed for taking regular peeps out at how your charges are doing.
The bonus about the plants noted above is they offer beauty as well as bounty, with attractive foliage and flowers. A garden design that compliments the produce as it grows will have a pleasing, restful atmosphere.
Forget regimented lines and embrace curves and fluid shapes that give the garden flow. Raised beds make sense for small gardens as the soil can be adapted to suit particular plants. They are pretty, have good drainage and are easier to tend. For visual balance, don't neglect an element of height in the garden. Exploit every growing opportunity by trailing climbing vegetables up trellis and fences. Underline the exotic theme with materials and accessories from far flung places: bamboo and cane matting work as a pergola sunshade; Andean textiles and mirrored pots add color pops and life to quiet corners; and Asian tiles and intricate wrought iron garden furniture offer a touch of Colonial-style luxury.
Live a life that's more exotic with a vegetable garden of unusual produce. Today it's tomatillos; tomorrow it could be edamame, kohlrabi, daikon or shungiku thriving under your green-fingered care.
This is a contributed post.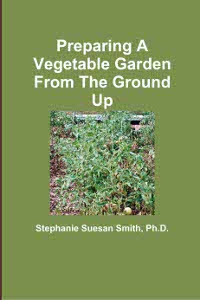 For more help gardening, buy my book, Preparing A Vegetable Garden From The Ground Up

Available in print or ebook from Amazon.com or other retailers, this book walks you from choosing the site of your garden all the way through what to do after the harvest. Buy a copy for yourself or a friend today!
---