Want to garden but don't have any space?  Try community gardening, a growing phenomenon in the United States.  This guest post by Ewan Michaels discusses what you can expect and what is expected of you.  He lives in Great Britain, where community gardens are a regular feature in most towns.
Using a Community Garden or Allotment
Community gardens or allotments are an excellent solution to those who lack garden space or would rather use their gardens for reasons other than growing food. Allotments are normally around 250 square meters but they can vary in size depending on the provider. If one is too large, you may be able to share with a friend but you should consult your provider. Allotments are normally offered to people on a renewable 12-month lease, where you can choose to grow whatever you like.
There are various benefits of renting a plot of land in a community garden. Firstly, in effect you are able to have an extension to your home; a rented garden away from home where you are able to relax, decorate it with your own outdoor water features and grow vegetables, fruit or flowers. This is perfect for those who don't have much space at home but still wish to get involved in growing their own produce. In some places, you may be allowed to keep small animals such as rabbits or hens but you should speak to your provider first.
Another advantage is that you will be surrounded by fellow gardeners who you can regularly ask for tips and advice. You will find that they will be more than happy to share their knowledge whilst showing you their produce in their allotment. Some will have a wealth of information and could help to make your plot of land more successful.
Having an allotment gives you somewhere to escape to, your own piece of land to get away from everything, so you can do some gardening. You can also choose to decorate it as you like using ornaments or even solar powered water features. Gardening is a great form of exercise that leaves you with a final product in the form of fresh food or beautiful flowers.
It is also reasonable to expect certain things to be provided for you including security measures to prevent possible vandalism or trespassing. There should also be a water supply provided, as this is vital for anyone looking to grow plants and flowers, and main paths in between plots should be well maintained for easy access. In addition, some sites may provide meeting places, toilets or sheds but this will vary from site to site and should not be expected at every site.
With an allotment, you should remember that you are renting the land and therefore have certain responsibilities. These include keeping minor paths and your plot relatively neat and tidy, and maintaining the level of cultivation. In addition, you should respect fellow gardeners around you. When taking children or pets, you should ensure that they do not disturb others or cause any damage to other plots.
If you want to get involved in gardening but don't really have the space, you should look into local allotments or community gardens that might be available in your local area. They act as a great solution to your gardening needs whilst immersing yourself within your local community. Growing your own vegetables and fruit can be incredibly satisfying, so work hard and enjoy the fruit of your labour!
Thank you, Ewan from UK Water Features, for this helpful information.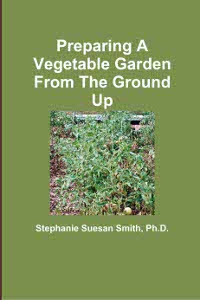 For more help gardening, buy my book, Preparing A Vegetable Garden From The Ground Up

Available in print or ebook from Amazon.com or other retailers, this book walks you from choosing the site of your garden all the way through what to do after the harvest. Buy a copy for yourself or a friend today!
---