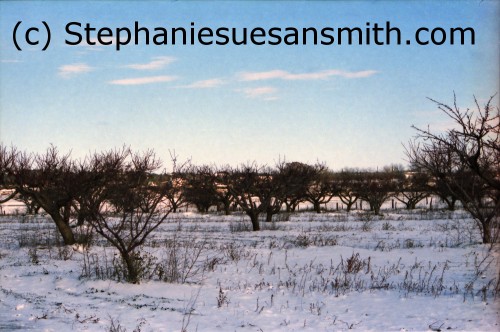 When I was a teenager, my parents bought a peach orchard.  I heard my Dad talk about spraying the trees with dormant oil and thought that was really weird.  Who oils trees that are still alive?
Turns out there are some things called scale insects that infest a wide variety of trees.  These insects are a little like barnacles in that they have a hard, waxy covering on their back and stick to the trees while munching.   Scale insects, once they settle on a tree, don't move again.   Mealybugs are considered scale insects and may move, but only very slowly.  I once observed them move when the light on the microscope warmed up the leaf they were on and it was like watching slow motion animation of one of those armored transports on stilts in one of the Star Wars movies.  Very cool!
Scale insects can be hard to identify.  They often appear to be simply part of the tree, or small white blotches.  Individually, they are almost microscopic.  It is only when the plant starts to die that they are usually discovered.  Since the insect sucks nutrients from the plant, too many of them are like too many ticks on a dog.  They cause the plant equivalent of anemia because of the fluids they drain.   Because of the scale, it is hard to get enough insecticide in them to kill them.
Dormant oils can stop these plant vampires.  Scale or not, they still have to breathe.  Spraying the trees with dormant oil coats the insects and they smother.   It does not damage the bark.  However, it does damage foliage, fruits, and nuts.  That is why it is called dormant oil — it needs to be put on when the tree is dormant and doesn't have any of these.
If you live in North East Texas, now is the time to use dormant oils.  The particular dormant oil you use depends on both the pest and the tree you are treated.  There is a good flyer on scale insects put out by Texas Agrilife Extension, and another one on using oils as pesticides that covers dormant oil.  The blog, insects in the city has a lot of good information on how to deal with various kinds of pests.
As always, follow the label directions and get help if you do not understand what to do.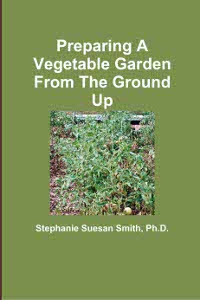 For more help gardening, buy my book, "Preparing a Vegetable Garden From the Ground Up." Available in print
or eBook, this book walks you from choosing the site of your garden all the way through what to do after the harvest. Buy a copy for yourself or a friend today!
---