What does Valentine's Day have to do with potatoes?  February 14th is the day old timers in the North Central Texas  region plant their potatoes.  You can get detailed instructions for doing just that from my article on Growing Irish Potatoes.  Basically, you take seed potatoes, purchased from feed stores or on the internet, cut them into pieces that each contain an eye, or bud, and plant them.  Each seed potato makes about four or five chunks of potato with an eye.  Since you get several potatoes from each plant, a half pound of seed potatoes produces a lot of potatoes.  Be sure you buy certified disease free seed potatoes and don't try to plant the potatoes sold as baking potatoes in grocery stores.  They are usually treated to keep them from sprouting and won't grow well.  Happy Potato Planting, er, Valentine's Day.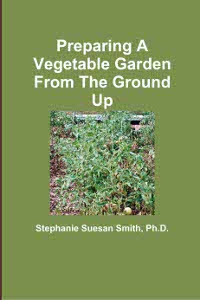 For more help gardening, buy my book, Preparing A Vegetable Garden From The Ground Up

Available in print or ebook from Amazon.com or other retailers, this book walks you from choosing the site of your garden all the way through what to do after the harvest. Buy a copy for yourself or a friend today!
---