Water wise gardening can be beautiful.  Mention water wise gardening, xeriscaping, or conserving water and people immediately think of cactus and rocks.  I think this is because the movement started in the arid Southwest, where that is what the landscape looked like before it was irrigated.  In most areas, however, that would be as wasteful of water as planting a Saint Augustine lawn is in the desert.
Water wise gardening is becoming increasingly important in a world that is running out of water.  Wars have always been fought over water.  Think of the range wars in Texas and other places, or the wars in Dufar and other places going on now.  The days when a lawn with a mustache of shrubs along the foundation and two trees stuck in the yard is the norm are numbered.
Water wise gardening has two parts.  The first is the irrigation system you use, the second is the type of plant you put in your garden.  Drip irrigation systems are 20 percent more effective than sprinklers.  In Texas during the summer, sprinklers waste about half of their water through evaporation before it hits the ground, and your plants.  Not only is that expensive, it is terribly wasteful.
Drip irrigation is not hard to put together.  Most Extension Offices have pamphlets on how to do it, and some hold hands-on clinics.  When a new bed goes into the Heritage Garden of Hunt County, we hold an irrigation class to demonstrate the process of installing drip irrigation in a bed.  The picture to the left shows the rows of pipe with emitters before the plants come up enough to cover it with mulch.  Mulch helps hold the water in and keep it from evaporating.
The second part of water wise gardening is using plants that are adapted to the level of rainfall in your location.  Instead of a lawn of thirsty Bermuda grass or Saint Augustine, you can plant native plants.  Texas has some spectacular wildflowers.  Every location has something that grew there before people came in and planted lawns.  You can come up with some really spectacular landscapes.
This is a flower bed at the Dallas Arboretum planted with different species of plants who are adapted to our rainfall.  Some of the plants are native, some are not.  The Native Plant Society works to get people to plant native plants suited to their location instead of water hogging imports.  The Wildflower Center has a similar mission, although they try to cover only Texas wildflowers.
Water wise landscaping is important.  As more people try to use the available water, it will become scarcer.  Each person will have less water to use.  Do you want to waste your water on a lawn that will go dormant and brown in the summer, or use it efficiently on a beautiful landscape that will look good most of the year?
This post was written for Blog Action Day 2010.  Bloggers all over the world are writing to raise awareness of the scarcity of water and the role that plays in death by disease or violence.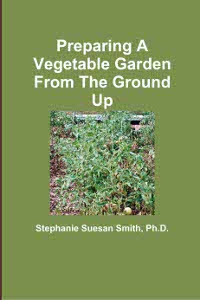 For more help gardening, buy my book, Preparing A Vegetable Garden From The Ground Up

Available in print or ebook from Amazon.com or other retailers, this book walks you from choosing the site of your garden all the way through what to do after the harvest. Buy a copy for yourself or a friend today!
---