Today was the last day of the 2010 WordCount Blogathon . I signed up, along with 115 plus other people, to post to my blog every day from May 1 to May 31. I was hoping Blogathon would motivate me to actually blog on a regular basis. It did that, and I managed a post every day for the entire month. In the process, I learned some things about the mechanics of blogging, about the people who blog, and about community. Here are a few of them:
1)Blogging, done properly, is work. It isn't stream of consciousness stuff, but a thought out article that is only 400 words long. It is much harder to write a 400 word article that conveys meaningful content than a 1,000 word article. Just coming up with a useful topic every day is hard, let alone researching it and writing the post.
2)Blogging is more than the post. The mechanics of where all the things are on the sidebar, figuring out how to get them there, to advertise or not, and with whom, what blogging groups to affiliate with, all these are time consuming but necessary. It turns out the RSS feed, twitter link, and facebook link need to be first on the sidebar if you actually want people to use them. People do not want to have to hunt you down to follow you.
3)Most bloggers are generous folk. If you get stuck with how to do something, you can usually find someone to help you. I have learned more than I ever wanted to know about pimping out a blog and depended on tutorials written by generous bloggers to do it. Sometimes they even went out of their way to help me with a sticky problem.
4)Bloggers are citizen journalists. The concept of citizen scientist has been used for close to a hundred years to gather way more data than scientists could alone. The Christmas Bird Count has been going for close to a hundred years and has yielded huge amounts of important data. Bird watchers are being deployed along the coast now to watch for oiled birds in the wake of the BP fiasco. The Government finally got that twitter users and bloggers were useful after a couple of scary crashes along the Hudson River, when they used twitter feeds to track what happened.
5)Not all bloggers are created equal. There are some really irresponsible people in the blogsphere, just as there are in any group. Some people put up opinion disguised as fact. Others steal the work of their better writing and researching peers. Some are just really out in left field, peddling things that are unsafe or worthless to unsuspecting readers. It is important to take everything with a grain of salt. Try to find at least three references for everything before taking it as gospel – three references from three unconnected sources, that is.
I plan to continue blogging every day and hope to gradually build a larger audience. The final thing I learned is that I am not a dog blogger, but a garden blogger who also reviews books and products. I want to thank Michelle Rafter for putting this together and look forward to next year's event.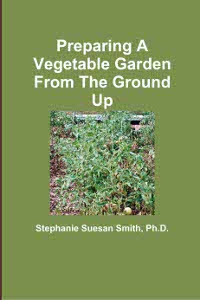 For more help gardening, buy my book, Preparing A Vegetable Garden From The Ground Up

Available in print or ebook from Amazon.com or other retailers, this book walks you from choosing the site of your garden all the way through what to do after the harvest. Buy a copy for yourself or a friend today!
---