Corn grown under drought conditions can kill. Aflatoxins are produced by certain fungi which thrive in drought conditions. While commercially sold corn must be tested for aflatoxin before being sold, home grown corn is not usually tested. Do you know what to look for to make sure your corn is safe to eat?
Aflatoxins are produced Aspergillus flavus and Aspergillus parasiticus.  They cause yellow-green or grey-green discoloration on the corn kernels either while they are growing or during storage.  Although it looks like you can wash the stuff off, toxins are produced inside the corn kernels.  These can make an animal or human sick or even kill them.
Different parts of the corn field may have different levels of aflatoxin.  Not all the corn will be effected.  However, mixing the corn ears after harvest can infect the normal ones.
Aflatoxin is considered a carcinogen and can reduce the lifespan and growth of livestock it is fed to.  The toxin is in cow's milk, so a cow that is fed aflatoxin contaminated corn and then milked can poison the people that drink the milk, too.  While aflatoxin can be seen in many cases because of the yellow-green or gray-green residue on the exterior of the ear, testing is available.  It is usually available through grain elevators and the Extension service.
To prevent this scourge, it is important to control insects in your corn field.  Insects injure the corn and provide a convenient way in for the spores.  Scout the corn field and check ears for mold close to harvest.  Finding a lot of mold tells you the harvest is going to be a problem.  When storing corn, dry it quickly,freeze it, or can it, so that mold does not grow on the stored corn.  Do not mix moldy and clean corn or all the corn will be contaminated.
Almost all of the United States is suffering from a drought.  Aflatoxin likes dry, hot summers to grow in.  Be vigilant and prevent problems.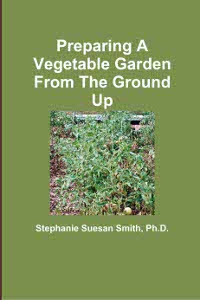 For more help gardening, buy my book, Preparing A Vegetable Garden From The Ground Up

Available in print or ebook from Amazon.com or other retailers, this book walks you from choosing the site of your garden all the way through what to do after the harvest. Buy a copy for yourself or a friend today!
---