Where I live, the wind from the South is constant much of the year. Sometimes it is a mere whisper, other times a gale, but it is almost always there. The trees are bent leaning towards the North it is so strong a force. If the wind can cause a tree to grow bent over, imagine what it can do to you tender transplants.
In West Texas, where my parents are from, there are miles of cotton fields.  One of the lessons of the Dust Bowl was to plant windbreaks to protect the soil.  Now you see a single row of trees at the edge of each field.There is also usually a row of trees by the farmer's house, although that didn't stop sand storms from blasting sand into the homes through every crevice it could find.
Even if you do not live in West Texas, you need to protect your transplants from wind.  The old way was to put a big coffee can with the top and bottom out over the top of the plant to shield it from the wind and cold for a week or so until the plants toughened up.  To the uninitiated, it looked like neat rows of coffee cans had just been planted.  Many a city slicker has had there leg pulled by being told this was where cans of coffee came from!
Now you can buy various items from gardening stores to shield your newly transplanted vegetable plants.  It doesn't really matter what you use, so long as it keeps the wind off the plant but allows in the light.  Use it for about a week, until the plants toughen up, then remove it.  It will be in the plants way otherwise.
It is amazing how many things we can learn from the Dust Bowl.  Wind breaks are one of them.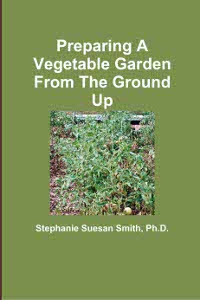 For more help gardening, buy my book, Preparing A Vegetable Garden From The Ground Up

Available in print or ebook from Amazon.com or other retailers, this book walks you from choosing the site of your garden all the way through what to do after the harvest. Buy a copy for yourself or a friend today!
---