I write nonfiction articles for magazines and the web.  I check job boards and am on several mailing lists that post job leads.  Over and over, I see advertisements asking for writers that do one of two things:  promise payment by "getting your name out there" and ask for a sample before hiring.
It is true that writers who are just starting out may do some articles for low fees, or even for free. After a few clips, though, writers need to be paid.  The advertisements always talk about the prestige of appearing in their magazine or journal. It is inevitable that the magazine or website has no "cachet" to confer on the writer who places an article there. Further, the editors, publisher, printer, and other people get paid.  The writers, without whom there would be no product, deserve payment too.
Now, there are many bidding sites there people are writing articles for $1 apiece.  These are the sweatshops of the virtual world.  I can always tell when I read a website written in this manner.  The phrases are awkward, words are used incorrectly, and the page does not flow. You get what you pay for.
The other thing I see a lot of is asking for samples.  I have clips on my website and then this blog.  If you cannot look at them and tell what my writing style is, and how I approach my work, you do not know much about writing.  Often, the request for samples is a sneaky way of getting content for the person's website or publication without paying.  Ask enough people for samples and you end up with a website.This is just dishonest.
It is true that on occasion I donate my writing to a cause I deem worthy.  However, I do not give out free samples any more than a lawyer or accountant.  I do not write for magazines or websites who claim to be unable to pay for my writing yet manage to pay for everything else associated with their business.  I cannot eat "prestige" and cannot pay my creditors with it.
On the other hand, if you are willing to pay a fair wage for my work, I will be happy to talk to you. Drop me a line at stephaniesuesansmith@gmail.com.  Tell me what you need and what you are willing to pay.  We can discuss it and see if we can come to some agreement.  The same holds true for my photographs.  Tell me what you need and what you are willing to pay, and we can see if we can work something out.  Both the clips and photographs are on my website, www.stephaniesuesansmith.com. I am adding more photographs all the time, so if you do not see what you need, ask.  I may have it.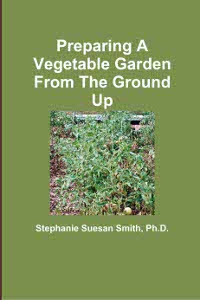 For more help gardening, buy my book, Preparing A Vegetable Garden From The Ground Up

Available in print or ebook from Amazon.com or other retailers, this book walks you from choosing the site of your garden all the way through what to do after the harvest. Buy a copy for yourself or a friend today!
---