Do you evaluate your vegetable garden each year?  How does it do?  I don't mean if it is an A student, but how does the amount of work put into the garden balance out with the amount of produce that comes out of the garden.  Since most people plan their gardens in the winter, and get the seed catalogs they order from then, winter is a good time to reflect on the gardening year.
First, look at your garden plot.  Is there one area that held water too much when it rained, or when you watered?  Or an area you could not keep moist enough no matter how much water you put on it?  These are indicators that you need to adjust the height of the area to be level with the rest of the garden.  Till the plot up to a depth of six inches, then add as much as three inches of compost.  Till that in and then level the garden plot so that there are no low or high spots.  If you cannot do this, you can either go with raised beds, or move the plot to a more level area.  As a last resort, you can simply skip the area that has problems when you plant, leaving it to lie fallow.
Next, evaluate your watering system.  If you use above ground sprinklers that spray water out onto the plants, consider installing drip irrigation.  Sprinklers are inefficient and, in hot climates such as Texas, can lose 40% of the water coming out of them to evaporation before it hits the plants.  In addition, wetting the foliage instead of delivering the water right to the root zone increases the likelihood of fungal diseases in your plants and produce.  If you cannot afford drip irrigation, consider a soaker hose as the next best thing. Remember not to water between the hours of 10 a.m. and 6 p.m.  The water droplets act like magnifying glass lenses and focus the sun's rays on one spot, burning the leaves beneath the water drop.
Now we move to the soil.  Now is a good time to get a soil test.  You will have it back more quickly now than if you wait for the rush at the end of December or early January.  This soil test will tell you what you need to add to the soil to make your vegetables grow best.  Some things, such as lime to change the pH, need to be worked in well ahead of the growing season. Others are added during the growing season, but without a current soil test, you will not know what to add and what you do not need.  Soil tests should be done every year for this reason.
Finally, there are the plants themselves.  How did the varieties you planted work out?  For example, there are many varieties of tomatoes.  Each one of those varieties is just a little different from all the others.  Some tolerate heat better than others, some the cooler temperatures.  Some are resistant to one disease but not other diseases.  Extension recommends three or four varieties for each area.  That does not mean others won't grow there, just that the recommended varieties grow best.
However, your garden is its' own little microclimate.  Out of the four varieties recommended, you may find that one really shines, one won't grow worth anything, and two are okay.  You need to record this information so that when you order seeds or transplants for next year, you remember which one to order.
Tomatoes are not the only vegetable that this holds true for.  Almost every vegetable has multiple varieties that you will need to try to see what grows best.  If you are interested in heirloom vegetable varieties, you can try a test plot of some of them, as well.
What about diseases and insect pests?  What diseases did you have trouble with?  Can you rotate your crops or plant varieties that are resistant to that disease?  Rotating crops is an important part of disease control.  If you do not plant the same vegetables in the same row each year, it makes it harder for disease causing organisms that live in the soil to infect your plant before they die.  The same thing holds true for insect pests.  What bugs plagued you and where were they in the garden?
Armed with all this information, you can see what is working in your vegetable garden and what is not.  This gives you an opportunity to make a plan of corrective action to fix problem areas.  Gardening is supposed to be fun, and pulling your hair out over problems is not my idea of fun!  A little planning now can save a lot of hair pulling later.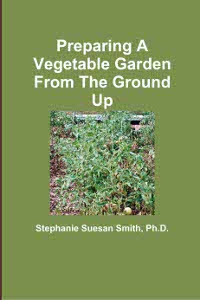 For more help gardening, buy my book, Preparing A Vegetable Garden From The Ground Up

Available in print or ebook from Amazon.com or other retailers, this book walks you from choosing the site of your garden all the way through what to do after the harvest. Buy a copy for yourself or a friend today!
---