Watermelons and cantaloupe are planted in either the spring or fall in Texas. Watermelons are originally from Africa, while cantaloupes are originally from Persia (modern day Iran).  Actually, what most of us refer to as cantaloupes are really muskmelons.  A cantaloupe is a specific muskmelon that is not really available in the United States.  For convenience, I will still refer to them as cantaloupes.
Both like it hot and dry, so they grow very well in Texas.  They are not tolerant of frost, so can't be planted until the temperature at night is 65 to 75 degrees.  In our area, that means between April 3 and May 1.  There are a number of cultivars that grow well here.  Be aware that if you are growing seedless watermelons, you will have to plant a row of regular watermelons next to them because they do not self-pollinate.
Melons require full sun.  They also like slightly alkaline soil with a ph of 6.0 to 6.8 for watermelons, and 6.4 to 6.7 for cantaloupe.  Fertilizing these plants is a little tricky.  They really like lots of phosphorus and potassium.  In our area, most soils are high in both nutrients, so it is best to get a soil test and see if you need to add any to your soil.  Like all plants, melons need nitrogen.  However, too much nitrogen will result in big healthy vines with no fruit.  The best time to fertilize is as a side dress application once the vines start to really run.  That means putting the fertilizer to the side, in a ring around the base of your hill, instead of right on top of them.
Melons are best grown in hills of land, not strict rows.  Mound up some dirt to make a low, broad hill about 8-10 inches high.  Plant 4-6 seeds in a circle at 5 inch intervals on your hill.  When the plants come up and have 2-3 leaves each, thin all but the strongest 2-3 plants.  Otherwise, they are too crowded and won't do well.  The seeds should be placed 1 inch deep and covered with soil that is lightly tamped down.  If the soil is too compacted, the sprouting seeds can't force their way surface of the soil.
Melons have deep root systems and need about an inch of water once a week.  More frequent watering will keep them from developing the deep root system they need to survive the dry summer.  Always water in the early morning, before 10 o'clock, to make sure the leaves have time to dry before the sun gets high.  If the foliage is wet overnight, the plants have a tendency to get sick.
A well prepared bed with black plastic or mulch to block the weeds should keep your melons happy.  Keep the melons weed free for the best crop.  Weeds steal nutrients the plants need.
A frequent question from melon gardeners is why the first flowers to appear don't bear fruit.  These are actually the male flowers.  Their sole purpose is to produce pollen.  Bees take the pollen from the male flowers and fertilize the female flowers, which produce the fruit.  It is important not to use pesticides while the flowers are blooming, as you will kill the bees and your plants won't produce any fruit at all.
Melons get a number of diseases and have problems with a number of pests.  The insects that really like melons are cucumber beetles, aphids, mites, flea beetles, and melonworms.  Cucumber beetles carry bacterial wilt.  Powdery mildew, downy mildew, alternaria leaf spot, anthracnose, and fusarium wilt are a few.  The best defense against these problems is to make your plants as healthy as possible, never water in the afternoon, evening, or at night, as the wet foliage is more vulnerable to disease, and try to water with drip irrigation or soaker hoses, as these avoid getting the leaves wet at all.  Finally, you must rotate all curcurbits (cucumbers, cantaloupes, watermelons, pumpkins, summer squash, winter squash, and gourds) on a three year cycle.  Year one, grow your curcurbits.  Year two, grow an unrelated crop such as tomatoes.  Year three, grow a crop that is not related to either of the previous crops, such as beans.  Year four, you can again grow curcurbits there.  If you stick to this rotation schedule, pests and diseases will die between crops and will not be such a problem.  If you must spray your plants, do so in the late afternoon, after most of the bees are finished feeding, and use a pesticide that specifically mentions it is usable on melons.  Be sure and read all the directions and observe waiting periods before harvest.
Some animals really love melons.  Coyotes and deer will wait until the melons are perfectly ripe, then break them open and eat the juiciest part of the fruit, leaving the rest.  They can devastate a melon crop, so be sure and plant the melons close to your house, so these pests won't come up and eat them.
Finally, how can you tell when your plant is ripe?  For cantaloupe, the stem will slip from the melon when it is ripe.  Carefully lifting the fruit, making sure you don't damage the vine, will tell you if the fruit is ready to harvest.  You can tell they are getting ready for harvest when they change from green or olive-gray to yellowish brown.  You should walk your patch every day to catch the cantaloupes at peak quality.
Watermelons are not quite as easy to diagnosis as ripe.  The light green curly tendrils on the stem near the point of attachment turn brown and dry.  The surface of the fruit loses its slick appearance and turns dull.  The skin becomes rough and you can penetrate it with your thumbnails.  The white spot where the melon rests on the ground will turn yellow.  Finally, you will hear a muffled, dull tone if you thump a ripe watermelon.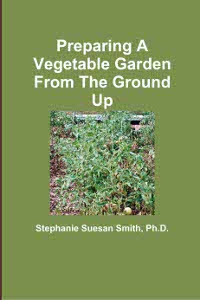 For more help gardening, buy my book, Preparing A Vegetable Garden From The Ground Up

Available in print or ebook from Amazon.com or other retailers, this book walks you from choosing the site of your garden all the way through what to do after the harvest. Buy a copy for yourself or a friend today!
---