White asparagus is considered a delicacy.  It has a milder flavor than green asparagus. White asparagus is preferred in gourmet cooking.  It is also expensive.  Here is how to grow your own.White asparagus is grown just like regular asparagus with one important difference.  The shoots are deprived of light so they never turn green.  There are two ways this is normally done.
The first way is the least expensive.  You simply heap dirt on the crowns so that the shoot is a normal length underground before it pokes through.  You use a knife to cut the shoot from the base and pull it out.  You should have a normal shoot with just a bit of green on it, where the tip poked through.
If you are more ambitious, however, you can try the second method.  A set of hoops are placed along the row of asparagus and covered with black plastic.  This blocks all the light from the shoots.  Every day, you briefly remove the plastic while harvesting the shoots that are ready, then immediately replace it when you are done.  Again, you should have white asparagus.
No wonder white asparagus are so expensive.  They are very labor intensive to grow.  Have you tried to grow asparagus or anything else and keep it white?  How did you do it and did it work?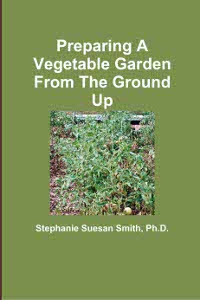 For more help gardening, buy my book, Preparing A Vegetable Garden From The Ground Up

Available in print or ebook from Amazon.com or other retailers, this book walks you from choosing the site of your garden all the way through what to do after the harvest. Buy a copy for yourself or a friend today!
---