Yellow summer squash  is a warm weather squash usually planted around the last freeze date in an area.  Zucchini squash, while technically a summer squash, has a post of its' own.  Yellow squash is a Cucurbita, just as zucchini squash, cucumbers, and melons are.  This means it must be planted separated from each of these by another crop or it will cross pollinate.  You can get some weird looking, and tasting, squash that way.
Squash like to spread out, but will follow a trellis if the vines are tied to one.  Seeds are planted on small mounds, three to five to a mound.  When the seeds sprout, you pinch off the weakest vines until only the strongest one is left.  It is important to pinch off the weak vines, as pulling them will disturb the roots of the strong one.
The mounds should be 12-36 inches apart from each other in the rows, and 34-40 inches from the next row.  This can take up a lot of space, but one squash plant can produce a lot of squash.  Resist the urge to plant more than four or five mounds of squash unless you are feeding an army.
Squash have mail and female flowers and bees or other creatures must pollinate it.  Last year, they fell down on the job.  You can learn how to hand pollinate your squash by reading this article on eHow.com.
Squash are, like most vegetables, heavy feeders and need lots of fertilizer and water.  Follow the directions for fertilizing squash exactly, as too much fertilizer will make the plants grow very big but have little or no squash.  A soil test is helpful in knowing how much fertilizer to put down, as well.
Summer squash are best when harvested at 4-6 inches long.  You will have to pick the plant at least every other day for maximum yield and quality.  If you plant an open pollinated type, you can let one or two squash grow out until they are completely ripe and save the seeds from them at the end of the season.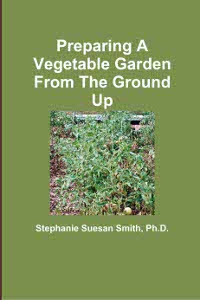 For more help gardening, buy my book, Preparing A Vegetable Garden From The Ground Up

Available in print or ebook from Amazon.com or other retailers, this book walks you from choosing the site of your garden all the way through what to do after the harvest. Buy a copy for yourself or a friend today!
---