I have yet to meet a person that likes fire ants.  The stinging menaces cost Texas around $1.2 billion a year in damages and injuries. If you are one of the people with life threatening allergic reactions to them, fire ants can cost you your life.  They are the poster child for invasive species in this part of the South.
I have talked before about using the Texas Two Step method of fire ant control.  Briefly, you spread ant bait all over your yard and only poison mounds directly if they are an active hazard to you.  That would be the mound in your septic system wiring, or something like that.  This method works well when done consistently.  However, if you own more than a few acres, it can get expensive.
Cattle ranches and farms need an economical way to control fire ants.  Not only do they sting people, fire ants will kill calves, deer fawns, and ground nesting birds such as quail.  Their mounds clog up farm machinery and can damage or destroy it.  Fire ants also get in the wiring of important things like wellheads and keep them from functioning.
Research is constantly ongoing to find ways to control the fire ant without harming desirable ants or other things, and to do so in a manner that won't break the bank.  One thing that is being evaluated now is Phorid flies (Pseudacteon species).  These little wasps are hard to see, at 1/16th of an inch long.  She lays an egg on a fire ant, which hatches into a maggot.  It burrows into the ant and eats it from the inside out.  When it pupates, it does so inside the ant.  At maturity, the phlorid ant pops the head off the ant and flies off.  How fun is that?
The phorid fly only nails one to three percent of the ants in a colony.  However, the presence of the fly freaks the ants out so much that they reduce foraging, hide more, and generally keep a lower profile.  This means they do not grow as much, that native ants can compete better for food, and that fire ants are not as likely to be out harassing people when phorid flies are around.
These phorid flies have been released around Austin and around Denton.  They have some trouble surviving the winter but are slowly getting a foothold.  Mass rearing techniques are also being developed so that the flies can come to an ant mound near you.  I have to admit, just thinking about the little flies popping the heads off the ant as they exit makes me smile.
For more information on fire ants and how to kill them, you can go to the Texas Fire Ant Research and Management Project web page and see what they are doing.  They have lots of good information available.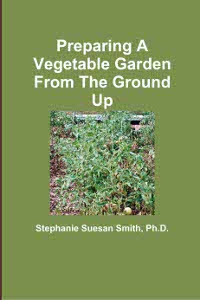 For more help gardening, buy my book, Preparing A Vegetable Garden From The Ground Up

Available in print or ebook from Amazon.com or other retailers, this book walks you from choosing the site of your garden all the way through what to do after the harvest. Buy a copy for yourself or a friend today!
---