The decline of the honey bee is in the news.  It is a serious concern.  However, there are other plant pollinators.  Some of them are also endangered.  Some of them are not.
Honey bees, as we know them, are not native to North America.  They were brought over by the settlers from Europe.  The pollinators that were native to this continent were immediately displaced and have been struggling ever since.  Some of them will benefit from the reduced honey bee population.  Some of them are succumbing to the viral infections, pollution, and reduced habitat that all wild animals content with now.
How pollination happens
Although we focus on bees as honey producers, flowers focus on them as movers of pollen.  When a bee or other animal enters the flower to sip the nectar, pollen rubs off onto the animal's body.  When the animal moves, that pollen is transferred to other parts of the plant or to another plant of the same species.  This fertilizes the plants and allows them to produce fruit and fertile seed.  If no pollination takes place, then no fruit or seeds will be produced.  Since animals, including humans, eat the fruits, vegetables, and seeds resulting from pollination, or eat animals who do, pollination failures have a widespread impact.
So what pollinates flowers?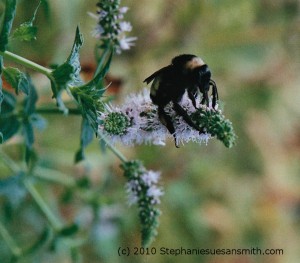 Bees, bats, small mammals, birds, flies, beetles, butterflies, and moths.  By bees, I mean native bees such as the bumblebee in the picture.  There are an estimated 4,000 other species native to North America that perform pollination duties for our plants.  These are solitary bees, that feed on nectar for themselves and their offspring.  The bumblebee lives in colonies, however.  Her big size makes it hard to miss the average bumblebee while most of the other bees are small and hard to see.
What threatens these pollinators?
The number one threat to pollinators is introduced species — both plant and animal.  Exotic species, including the honey bee, out compete the native species because they have no natural enemies in the new location.  Exotic plants do not provide the food the pollinators need and choke out the plants that do.  Exotic animals take the food before the native species can get it and expand rapidly, over running the native animals.
The second major threat is the indiscriminate use of pesticides, including organic ones.  People see one bug on a plant and hose down the garden with a pesticide that kills everything there, good and bad.  Herbicides are used to kill plants humans deem weeds, which are too often the plants pollinators need to survive.
How to help pollinators
There is hope, however.  The movement toward integrated pest management, or IPM, targets the indiscriminate use of pesticides, as does the movement toward organic production of food and fiber.  Butterfly gardens benefit a host of insects and small animals.  So does putting your land into wildlife valuation and managing for native plants and animals.  Instead of an expanse of turf grass you must water constantly, grow plants that benefit pollinators and look nice, too.  Native plants will reduce your water bill after they are established, need less upkeep, and can look nice, too.  You can even get your yard certified as a wildlife habitat by the National Wildlife Federation.
As it comes up on time to plant many of the plants that help you move toward a pollinator friendly yard, think about redoing your landscape.  If you can't afford to do that, and many can't right now, resolve to redo one flower bed.  Seeds are not that expensive, and many places sell butterfly garden kits that fit into an existing flower bed.  Do your part to provide pollinators a food and shelter corridor.  Do your part to keep food on your table.  Do your part now, while you still can.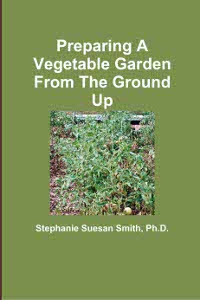 For more help gardening, buy my book, Preparing A Vegetable Garden From The Ground Up

Available in print or ebook from Amazon.com or other retailers, this book walks you from choosing the site of your garden all the way through what to do after the harvest. Buy a copy for yourself or a friend today!
---