Root knot nematodes are common in Texas and the South.  They are small, almost microscopic, eel like worms that infest the roots of plants.  In addition to feeding on the tissue of the plant, they cause galls to form on the roots (the root knot) and the roots cannot carry water and nutrients up to the rest of the plant.  The plant wilts and dies.
Diagnosis involves pulling up an infected plant and looking for the root galls on the roots.  If they are there, you have a problem.  Forget chemical control — fumigating the soil is expensive and the chemicals are extremely toxic.  You will kill not only the nematodes, but anything else in the area.
No, control is cultural and biological.  If you have plants that are infested, burn or trash them.  Composting them will only spread the nematode further throughout your property.  Most homeowner compost piles are not hot enough to kill the nematodes.
Do everything you can to keep your plants healthy — water regularly and correctly, fertilize, prune, and baby your plants.  A healthy plant can resist the nematode better.  In addition, it can tolerate more nematodes without dying.
Sun solarization is the preferred way of killing the nematodes.  During the summer, you cover your plot with clear plastic.  Weight the edge down with rocks.  Leave it there for about six weeks.  This obviously has a downside in that you cannot use the plot for a season.
Rotating crops helps as it slows the build-up of nematodes.  Do not plant plants from the same family in the same place in the plot two plantings in a row.  This is especially important with tomatoes and other plants nematodes love.
Speaking of tomatoes, there are nematode resistant varieties.  Make sure you use nematode resistant tomatoes and any other vegetable you can find.  Not only will that produce a better crop, but the less food for the nematodes, the fewer nematodes there are.
Finally, research has shown that marigolds, and particularly French marigolds, lessen the infestation of nematodes where they are planted.  Consider planting them between seasons or on fallow spots to help combat nematodes.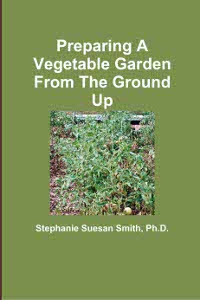 For more help gardening, buy my book, Preparing A Vegetable Garden From The Ground Up

Available in print or ebook from Amazon.com or other retailers, this book walks you from choosing the site of your garden all the way through what to do after the harvest. Buy a copy for yourself or a friend today!
---