Winter is a good time to tune your gardening tools.  It is cold and wet and hard to do much outside, so cleaning and sharpening your tools is a good use of your time.  Tools need two kinds of maintenance, in general.  Edged tools need sharpening.  All tools need a good cleaning and a wash in a bleach bath.
Now is the time to replace your mower blades and put a new spark plug in the mower.  Sharp blades cut, while dull ones rip and tear, leaving plants vulnerable to disease.  Drain the old gas and oil out and put new, clean oil in.  Be sure to dispose of the oil and gas responsibly.  Most oil change places will take the oil for a small disposal fee, and some will take the old gas, too.  Wash the mower filters, or  change them, as the owner's manual recommends.
Other equipment with an engine needs similar loving care.  If you care for your equipment now, it will be ready for you in the spring when you want it.
Edged tools such as pruning shears, scythes, and even things such as hoes and shovels can be sharpened now with a file from the hardware store.  Sharp tools are easier to use and do less damage to plants.  After sharpening your tools, wipe them clean.  Before you store them for the winter, there is one more step:  cleaning.
Tools can spread disease when you chop down a sick plant, then prune a healthy plant with the same tool.  You have just introduced a disease into a fresh cut on the healthy plant, making it easier for the disease to spread.  If you wash your tools with a solution of one part bleach and nine parts water, then dry them off, oil them if needed, and put them away, you will start the season fresh in the spring with no lingering diseases on your tools.  In fact, any time you cut a diseased plant, it is a good idea to wash your tools afterwards before moving on to the next task.  This helps stop diseases from spreading.
If you care for your tools properly, they can serve you for years to come.  As I mentioned, it is also a good way to use your gardening time when it is too cold or wet to go out and play.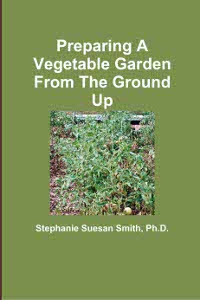 For more help gardening, buy my book, Preparing A Vegetable Garden From The Ground Up

Available in print or ebook from Amazon.com or other retailers, this book walks you from choosing the site of your garden all the way through what to do after the harvest. Buy a copy for yourself or a friend today!
---