I frequently receive comments that someone would like to have a garden but they do not have the space.  It doesn't take a lot of space to grow a few vegetables.  In square foot gardening, Mel Bartholomew developed an easy to use method of intensive cultivation so people can grow a lot of vegetables in a small space.  His method is easily adapted to containers for those who have only a porch or balcony.
First, if you will be putting containers on a balcony, make sure you do not overload it.  A pot full of wet dirt is heavy and you do not want to cause the balcony to come crashing down.  That tends to annoy the people under you.
If you can manage it, a pot that is about a foot in diameter and a foot deep works well for crops with shallow root system.  One two feet deep works for root crops such as beets, carrots, and potatoes.  Shallow window boxes are best kept for herbs.
In this pot, you need to put a mixture of half potting soil and half compost.  Vegetables are heavy feeders, so they need the compost to produce the food we eat.  They also need regular water — enough to keep the soil moist but not soggy.  Do not let the soil dry out between waterings.
Now that you have your pots set up, you are ready to plant.  Plants are planted at the following spacing:
Extra large plants, such as tomatoes, peppers, squash, cucumbers, one per pot
Large plants, such as leaf lettuce, four per pot
Medium plants, such as bush beans, nine per pot
Small plants, such as carrots, sixteen per pot
You can plant cucumbers and other vining plants such as squash by trellising them up instead of letting them grow out.  You can grow quite a lot of food with just a few pots if you plant each of them with successive crops during the season.  For example, plant a pot in radishes, then harvest them when the radishes are ready and plant something else.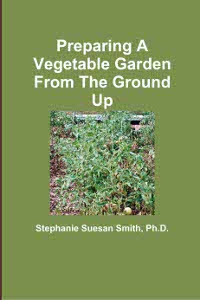 For more help gardening, buy my book, "Preparing a Vegetable Garden From the Ground Up." Available in print
or eBook, this book walks you from choosing the site of your garden all the way through what to do after the harvest. Buy a copy for yourself or a friend today!
---